It's Spring Break around here!  No lunches to pack, no early morning alarms.  I am welcoming the break and  enjoying lots of uninterrupted time with my fam.  
Don't forget my giveaway to 

Baby Face Design

 ends this Saturday!  To enter, simply go 

HERE

, leave a comment and your email address if you do not have a blog!  I'll email you if you win!
My good friend, Jennifer, from

Green Door Designs

, is guest posting today at My Heart's Desire.  Jennifer and I go way back to 1993 when we met at Ole Miss.  Although we've lived very far apart since that time, blogging has been such a great way to reconnect!  Green Door Designs is  the perfect stop for home decor, design ideas, and more.  Be sure to visit her and say hello!
Hi, this is Jennifer from 
Green Door Designs
! I am so excited to be posting on Amanda's blog today.  Amanda and I have been friends for years, but since we live a few states away from each other, blogging allows us to keep up with the "daily" lives of each other families!  Amanda was gracious enough to post on my blog last week while I was on spring break, so I am very happy to return the favor.
I posted my the 
spring updates
 to my house a couple of weeks ago and one of the items I showed was a new wreath.  I had a teaser, but not tutorial.  Today, you get the tutorial! 🙂
Spring Burlap Wreath
I utilized
– foam wreath from hobby lobby
– left over burlap scraps from prior projects
– bundle of green/blue fabric pieces from Hobby Lobby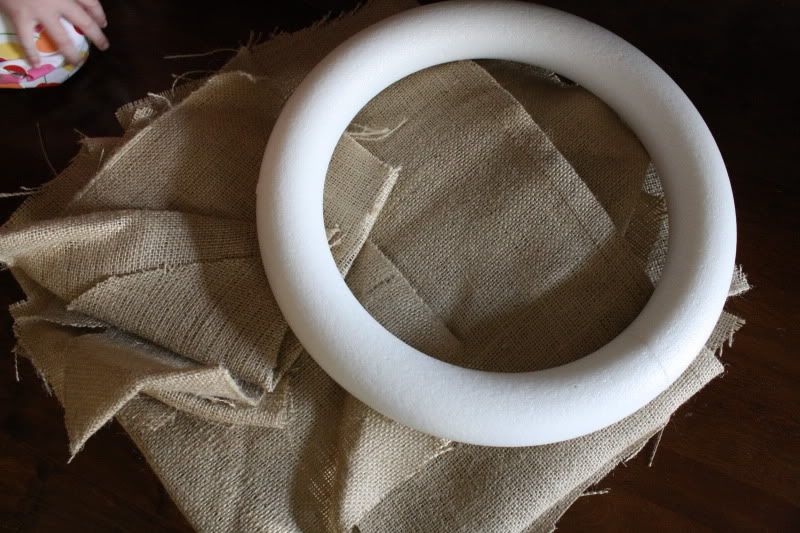 wreath and burlap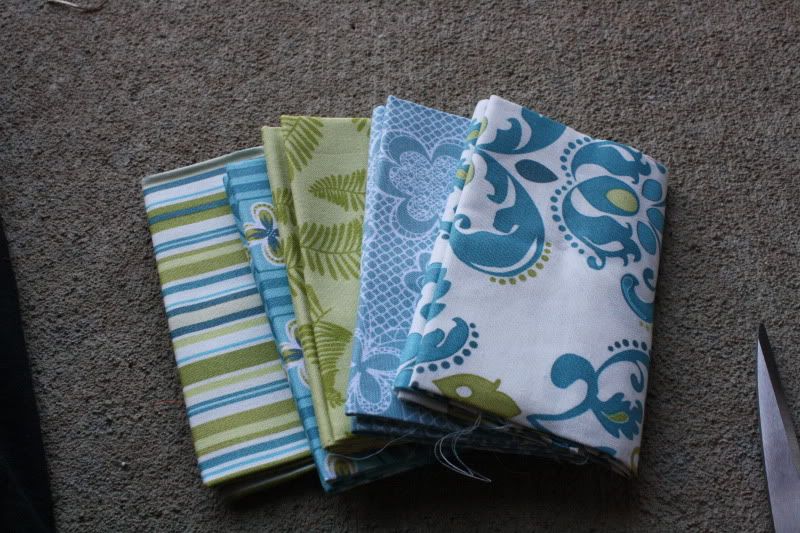 fabric from hobby lobby
 Step 1 – wrap the wreath in burlap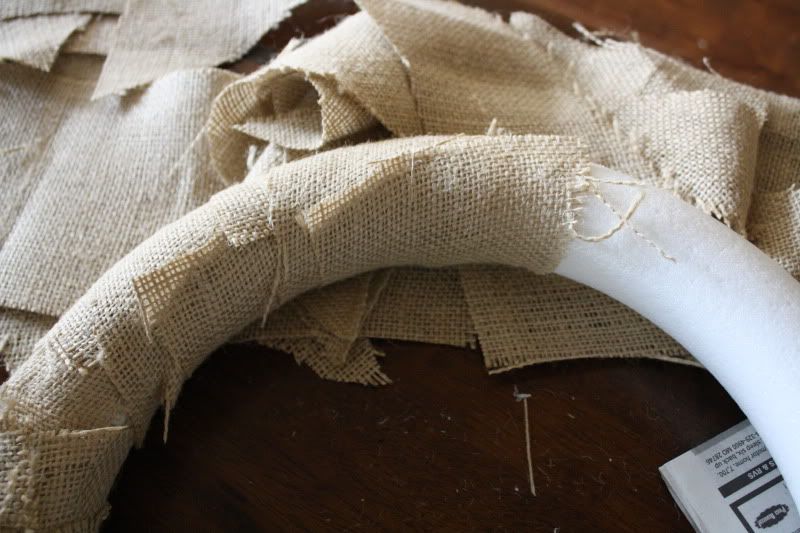 in process, the back of the wreath

I found it best to cut into fairly thin strips, and then I just started wrapping. I would hot glue the ends, and then, if the strip was long, in the middle.  I would then hot glue when the strip reached the end.  If it looked like it wasn't going to end on the back and would only go half way around, I would just glue it and cut off the excess.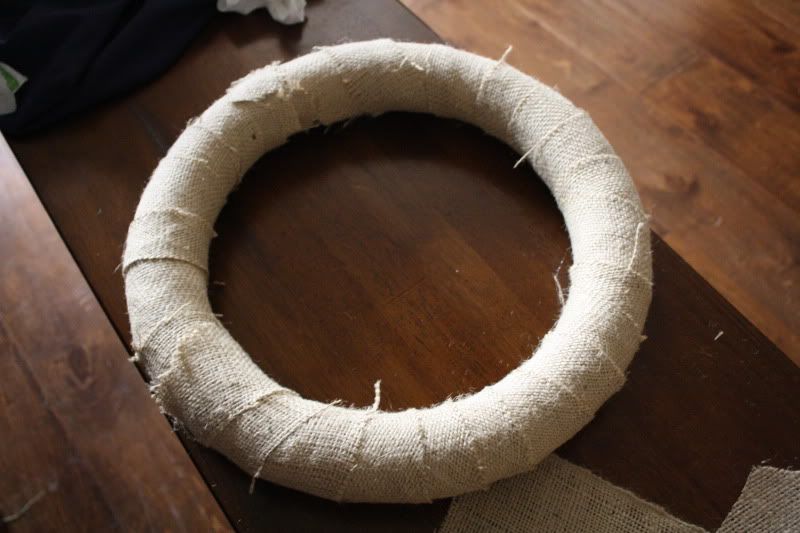 Wreath wrapped, I just trimmed any of the stray strands that bothered me

Step 2 – make your accessories/flowers

I made two different things.  First, I made one burlap "flower" – I basically cut two sets of petals (folded the burlap in half and then half again and cut the edges in a round fashion) – I determined that wasn't going to make a great flower so I ended up putting a rosette in the middle – I am actually happy with how my "mess up" worked out.

The rosettes – I cut strips of fabric into 1/2 inch strips. 
Some i folded in half before rolling, others I just rolled.  I think they kind of turned out the same and both generally required me starting and stopping and starting over again! 🙂  For the really big one, I glued two strips together before twisting.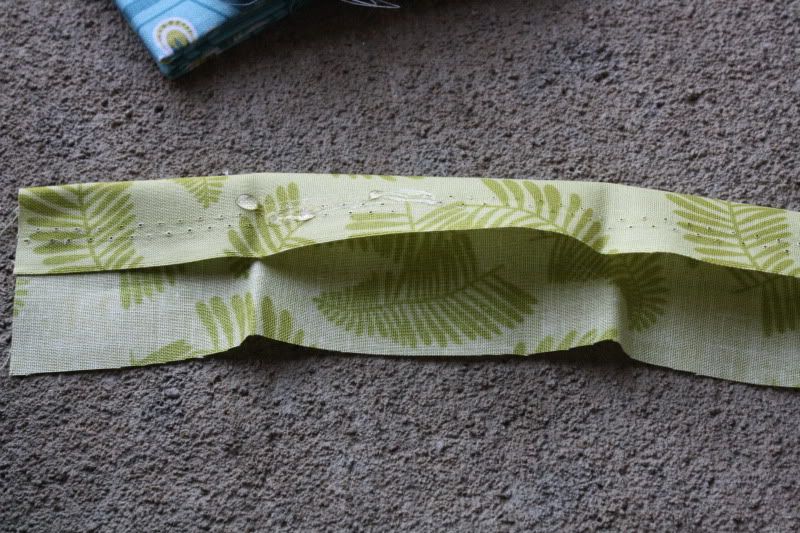 pre-rosette – this one I cut wider and folded in thirds

Basically I twisted the fabric to make a twisted strand and then started rolling the strand on itself. I would hot glue throughout to keep it together. 

Step 3 – attach accessories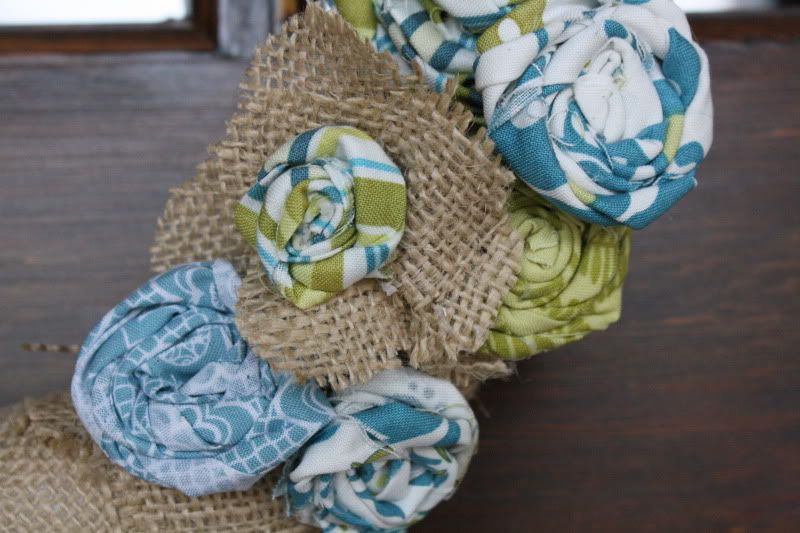 Close up of the flowers – the burlap petals and the rosettes

I attached the flowers via hot glue to the wreath, just sort of eyeballing how it looked as I added layers.

Step 4 – put on your door!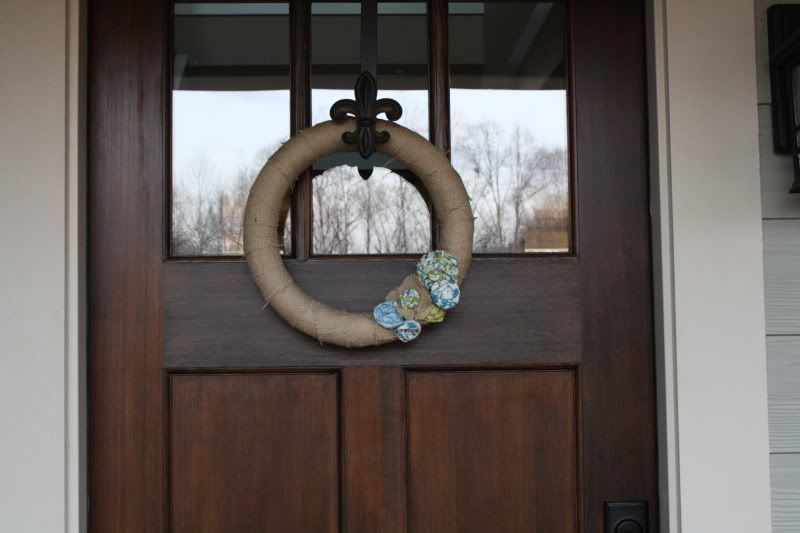 On the front door!
 It is done, and I think it looks great!  Much better than the sticks I had before that people were getting poked with – LOL.  NOTE – I need to put something to keep the wreath from twisting, the flowers are heavy and so it keeps wanting to settle on the bottom vs. staying on the side. I might use some 3M strips to the back of the wreath holder.

Enjoy – the wreath was pretty easy to make – the rosettes took the longest. If you are much more talented at making rosettes than me – it shouldn't take you as long! 🙂