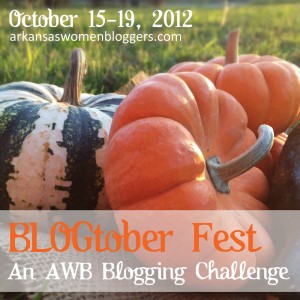 Welcome to Day 2 of Blogtober Fest!  Thanks again to the creative minds who are hosting at

Arkansas Women Bloggers

!  If you are in Arkansas, be sure to connect with the AWB community…a fabulous group of encouragers and resources and fun!
Today's topic is "

Halloween Memories

!"  Walking down memory lane (all the way back to 1977) to prepare today's post, was fun for my whole family!
While digging through old family photos, I came across this one of me from 1977.  Wonder if I trick-or-treated in a smocked dress?
Fast forward to 1984.  For years, we made a quick stop by our grandparents' to show them our costumes and trick-or-treated their close neighbors before we headed back to our own street.  For some reason, this photo depicts such a simpler time.  
And October of 2008, married with three kids later!  Lainey's first Halloween.
And one of my favorite Halloween photos ever.  Lainey, age 1 1/2 as a bumblebee.
Trick-or-treating her own house over.and over.and over.
Halloween night is always a fun night as a family and a neighborhood.  
If your kids are like mine, they've been planning what they will be for months!  
What are some of your Halloween traditions or memories?
Click the Blogtober Fest image to be directed to other bloggers' Halloween memories!
If you are new to the blog, I'd love to stay connected to you through our

Facebook page

,

Twitter

, or Email Subscription, all in the right sidebar!